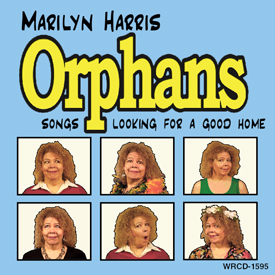 ORPHANS Liner Notes:
(by Marilyn Harris)
COUNTRIES IN LOVE - My ever clever friend, co-writer and co-performer Mark Winkler delivers again - "Peace In Our Time"- on ALL fronts. Da, Baby, Da!
BIRD - Written as the theme song for a friend's spec TV show (about her adventures as a musician-journalist in NYC), the melody is based on a standard tuning for the koto (Japanese harp). Dig Dan's flute solo!
YOU DON'T LOVE HERE ANYMORE - Songs like this make me feel like a country girl at heart! Reba should sing this! Or the Dixie Chicks!! Yeah, you heard me, buddy - start packin'!
WHEN DO WE CALL IT LOVE? - When dating moves to the next stage there are always questions and anxieties. This song was supposed to be the follow-up duet to LIKE LOVE, from Jim Brickman's VISIONS OF LOVE album.
OVER THE YEARS - Written for my in-laws' 40th anniversary - at the time, we'd only been married 4 years so I had to imagine being married for 4 decades...now, after being married 30+ years I'm finally starting to really understand it!
NEW YORK, NEW HAVEN & HARTFORD - This is the railroad by which I planned my escape from Connecticut to the wonders of New York City as a child! I was either going to be a music conductor or a train conductor. Luckily, I've been able to keep my musical career "on track"!
LET'S GET TOGETHER TONIGHT - I wrote this song as an end title for an indie film. It may be just a tad too honest! Don't fight it, pal - it's bigger than both of us!
JET LAGGIN' - Co-writer Mara Purl travelled exten-sively during the honeymoon years of her marriage, so much so that even the cat was confused about her comings and goings! I love the groove of this track!
WE'LL BOTH BE COOKIN' TONIGHT - This is an appetizer he can't resist! Fine cuisine was never more mouth-watering! And Steve Carnelli's guitar work really set the table for this track!!
THEY LEARN - This song was inspired by Mark's father, who worked so hard to be a loving, Christian parent. I know he would've smiled if he'd heard it!
TOO BAD, MY LAD - The title comes from an old joke about a son away at school, telegraphing 6 words home for more money - and his father's terse reply. I love WELCOME TO THE ST. JAMES by the Rippingtons, which incorporates wordless vocals within the instrumental, which is what we did here.
THE EMPTY CHAIR - When a dear one departs, it leaves a huge gap in the family. I wrote this song to help "mend a broken family torn apart." Mostly, I wrote it to soothe my own pain.
BREATHLESS - This groove and the soprano sax solo really hit the bullseye for me! What would it take now to spark your heart?
SECOND WIND - Starting over is the only way to succeed when struggling with addiction, defeat, a sullied past. And rock'n'roll gives you the energy to DO it!
THE OLD HOUSE - We can see with new eyes, remembering the old times, but we can never go back to the way it was - not really.
CLOSIN' TIME - Imagine a conversation with an amalgam of Liam Neeson, Frank McCourt and my father...ahh, the Irishman speaks to me, somehow.
YOU BRING ME HOME WITH A SONG - I wrote this song with Jim Brickman for vocalist Anne Cochran, as they've known each other since high school. It features a gospel-tinged choir led by Yvonne Williams and Dan Higgins' plaintive wail on alto sax.
###