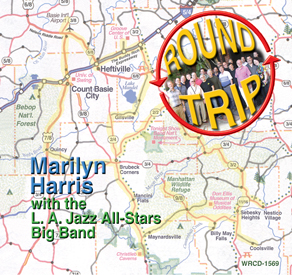 ROUND TRIP Liner Notes:
Marilyn Harris knows how to write songs - clever songs, knowing songs, novel songs, heartfelt songs (ten of which appear here) - but some of you already know this from her previous discs. What you may NOT know is that Mark Wolfram, her onstage-offstage partner, writes big, colorful arrangements: he mines the jazz orchestra for the range of colors and textures that Harris' songs inhabit so well. Blend in the all-star big band you hear here, alloyed by the hand-picked guest soloists, and how can you lose?
Actually, Marilyn tells you exactly how you can lose in her winning blues "The Cards Keep Comin'," then turns the tables with "I Don't Gamble," which showcases her lovely, lively voice: velvety one moment, clarion the next, and always up to the challenges of her own written wordplay. Did someone say wordplay? Listen to the retitled "Way Out Here In The Country," a song introduced by the innovative Don Ellis Orchestra of the late 60s. Or try "Bebop High," Harris' name-dropping ode to the seminal music of the 40s and 50s, written with another noteworthy singer and songwriter, Mark Winkler; here, they match their verbal flair to a melody reminiscent of the Miles Davis "Birth Of The Cool" recordings.
Harris and Winkler make a terrific team, whether the mood calls for frivolity or introspection. For the former, there's "Cool," which fits the grizzled tones of Bob Dorough so neatly that you can't believe he didn't write it himself; for the latter, check "That Afternoon In Harlem," their evocative portrait of a faded great on a fading day. Harris and Winkler also concocted the album's finale, "They're Gonna Love Me," her sharp commentary on appreciating artists within their own lifetimes; it cries out for a cover version by Mose Allison, and the sooner the better. This one manages to contain both good humor and morbid sarcasm, but that won't surprise listeners who've heard Marilyn's previous work; she has an unusual gift for balancing on the knife-edge between wit and rant. The balance shifts slightly on "The Wisdom Of Sam Kinison," inspired by the late and irrepressibly angry comedian, but it still holds.
Marilyn's songs deserve all this praise, but not at the expense of her skills as a vocalist, and two songs that she did not write complete the picture: the 1960s standard "If He Walked Into My Life" and the gorgeous Marian McPartland melody "Twilight World," to which the legendary Johnny Mercer later added lyrics to create an underworked gem. Harris brings a throaty passion to both these tunes, proving herself a wise interpreter of songs other than her own. Of course, the job gets a little easier when it involves a practiced group of jazz stars playing terrific and supportive arrangements, peppered by Pete Christlieb's galvanizing tenor sax solos.
As the map on this album's cover suggests, it's taken a while to get here. Marilyn first encountered big-band jazz in college, "savoring the newest releases by Buddy Rich, Maynard Ferguson, Bill Watrous, Don Sebesky's charts for Paul Desmond . . ." Three decades and better and a lot of musical mileage later, she finally gets to realize that schoolgirl crush on the arrangers of her youth. It turns out to be a round trip worth the wait.
NEIL TESSER,
Co-host "Listen Here!", the public-radio jazz review
www.listenhereradio.com
###