(continued)
---
2007
Where To See Marilyn Play LIVE - July/August 2007

Colors, 5303 E. Speedway - from 6:30pm to 9:30pm
Friday - July 20th
Saturdays - July 21st, July 28th & August 4th, August 11th, August 18th, August 25th
---
Where To See Marilyn Play LIVE - June 2007

Saturday, June 16th - Marilyn will be at the Mt. View Country Club in Saddlebrooke with Joe Bourne & Co. - from 7:30pm to 10:00pm

Trivetti's Restaurant & Piano Bar, 190 W. Continental, Green Valley
solo piano and vocals - Saturday, June 2nd, Saturday, June 9th,
Sunday, June 17th and Saturday, June 23rd - from 6:15pm to 8:15pm

Friday, June 29th - Colors, 5303 E. Speedway - from 6:30pm to 9:30pm

Saturday, June 30th - Old Town Artisans' Hospitality Event,
201 N. Court Ave. - from 4:00pm to 7:00pm
---
Where To See Marilyn Play LIVE - April/May 2007

Monday, May 7th - House Concert at the Z Mansion, 288 N. Church,
(3 blocks north of Broadway, 2 blocks south of St. Mary's, on the east side of Church). Featuring the vocal and piano stylings of Lisa Otey, Linda Ackerman and Marilyn Harris! Enjoy your favorite standards and original jazz songs in the relaxing and intimate setting of the Z Mansion parlor on Monday, May 7th at 7pm. Tickets are $15 and are available online at http://www.lisaotey.com. Seats will be reserved on a first come, first served basis. There is free parking in the pay lot across the street.

Friday, May 11th - LGBT Alliance Fund Raiser featuring Karin Uhlich (Ward 3) as MC, the U of A Tuba Cats and Marilyn Harris from 6:00pm to 8:30pm. For more information, please visit http://www.alliancefund.org

Saturdays, April 14th through May 26th - Trivetti's Restaurant & Piano Bar, 190 W. Continental, Green Valley - 6:00pm to 9:00pm.
---
TJS Presents Live Jazz at Plaza Colonial

The Tucson Jazz Society presented a WOMEN IN JAZZ SHOWCASE: Jazz singer-songwriter-pianist Marilyn Harris joined saxophonist-singer-songwriter "Hurricane" Carla Brownlee on Saturday, March 10th for a FREE afternoon of exciting LIVE jazz at Plaza Colonial shopping center (at Skyline & Campbell) from12:00noon to 3:00pm. The two powerhouse performers played and sang terrific new songs and old favorites, too! CLICK HERE to see event poster.
---
2006
British Vocalist Claire Martin Covers Marilyn Harris Songs
In November 2006 British jazz vocalist Claire Martin featured Marilyn's original wry samba "My Dissipation" on the BBC. Ms. Martin was accompanied by Richard Rodney Bennett on piano. Ms. Martin also performed the song in Los Angeles, CA in late December 2006 at The Vic along with one of Marilyn's writing partners, Mark Winkler. Ms. Martin soon plans to add Marilyn's sassy original "The Wisdom of Sam Kinison" to her set. L.A. Times jazz reviewer Don Heckman (who was at the L.A. performance) wrote a great review! Congrats, Claire!
---
Marilyn Joins Singer Paul Elia and the Tucson Jazz Orchestra
On Sunday, October 8th, 2006 Marilyn did a concert with the Tucson Jazz Orchestra for the Tucson Jazz Society - featuring selections from here latest Wrightwood Records big-band CD "Round Trip". Also on the concert was local crooner Paul Elia - who did a duet with Marilyn. To see YouTube.com video
CLICK HERE.
---
Marilyn has 2 songs (written with Mark Winkler) in the new jazz musical "Play It Cool" -
which opened June 9th, 2006 and had an extended run through July 29th, 2006 at
the Celebration Theatre in Los Angeles, CA. The show is currently being prepared
for its New York City "Off-Broadway" debut - coming up soon!
Also, Marilyn has contributed a new song (entitled "A New Road") to the original musical revue "The New Normal", which is having a staged reading at the John Raitt Theater on June 4th, 2006.
---
Marilyn's Big Band Jazz CD ROUND TRIP Climbs The Charts!
Marilyn's hot new big band jazz CD ROUND TRIP got lots of great reviews and tons of airplay in the Summer of 2006, peaking on the JazzWeek charts at #25. ROUND TRIP charted for 16 weeks on MediaGuide and was played all over the world (Australia, South Africa, The Netherlands, South America, Canada) and by syndicators "Jazz After Hours" (Jim Wilke), XM Satellite Radio, RadioIOJazz.com, "Jazz with Bob Parlocha" and "Modern Jazz Classics" (Bob Stockton). Radio promotion was handled by Josh Ellman and Mark Rini at Groov Marketing and Dick LaPalm and Fred Mancusso at DLP. Thanks to all the DJs for all the spins!
---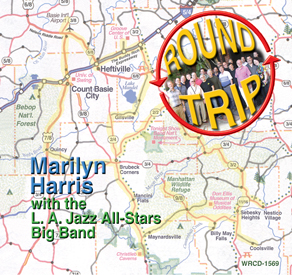 CLICK HERE for sound clips, ordering information and webpage.
---
Round Trip Jazz All-Stars


The L. A. Jazz All-Stars Big Band was assembled at Entourage Recording in North Hollywood, California on December 19th, 2005 & February 12th, 2006 for Marilyn Harris' new Wrightwood Records CD entitled, "Round Trip". (WRCD-1569) Pictured are (from L to R) Andy Martin, Bill Liston, arranger/producer Mark Wolfram, John Yoakum, Don Shelton, Bruce Otto, Ralph Humphrey, Wayne Bergeron, Charlie Loper, Larry Lunetta, Greg Huckins, Warren Luening, Peter Erskine, Charlie Morillas, Pete Christlieb, Chuck Berghofer, Jim Fox, Rick Baptist, Dan Higgins, and singer/songwriter Marilyn Harris.
Marilyn Harris and Bill Watrous relive days gone by after he soloed
on her new CD "Round Trip".

Jazz legend Bob Dorough shares the microphone with Marilyn as they sing "Cool" (for Marilyn's upcoming CD "Round Trip") at Tabby Sound, Ltd. in New York City. Jeremy Goldsmith engineered.
Two big band recording sessions for Marilyn Harris' new CD "Round Trip" took place at Entourage Recording in North Hollywood, California - one on December 19, 2005 and one on February 12th, 2006.(top photo) They featured an All-Star Big Band of Los Angeles heavyweights. Also, Marilyn recorded a duet with jazz legend Bob Dorough at Tabby Sound, Ltd. in New York City. (bottom photo) "Round Trip" is scheduled to be released in April 2006. This is one CD you won't wanna miss!!
CLICK HERE to see the full gallery of session photos.
---
(L to R) Mark Winkler, David Basse, Bob Dorough, Ray Passman & Marilyn Harris at the 2006 IAJE annual conference in New York City.
---
2005
Viva Las Vegas (Jazz Society)

From L-to-R: Marilyn Harris (kybds./vocals), Billy Crist (bass), and John Nasshan (drums) play at The Whitney Library Concert Hall in Las Vegas, NV for the Las Vegas Jazz Society.
Sunday afternoon, September 18th, 2005, Marilyn Harris was the featured artist in the Las Vegas Jazz Society's Fall Concert Series at The Whitney Library Concert Hall in Las Vegas, NV. The concert featured Marilyn singing and playing her original music & lyrics along with many well-known standards. LVJS President Paul Coladarci was the MC for the event - and Marilyn was backed by Billy Crist (bass) and John Nasshan (drums).
---
Marilyn Plays for TJS at St. Phillips
From L-to-R: Marilyn Harris (kybds./vocals), Ed Friedland (bass), Mike Kuhn (reeds), Fred Hayes (drums) and Matt Mitchell (guitar) play at St. Phillips Plaza for the Tucson Jazz Society.
Sunday night, May 1st, 2005, Marilyn Harris was the featured artist in the Tucson Jazz Society's Spring Concert Series at St. Phillips Plaza. The concert highlighted many Marilyn Harris originals (old and new) mixed in with some standards. Jazz Singer Joe Bourne was the MC for the evening - and Marilyn was backed by the quartet of Ed Friedland (bass), Fred Hayes (drums), Matt Mitchell (guitar), and Mike Kuhn (Reeds).
---
Releasing Your Indie Jazz CD at IAJE
On April 9, 2005 the IAJE Midwest Regional Conference in Chicago, Illinois presented a panel entitled, "Releasing Your Indie Jazz CD". The panel was moderated by Marilyn Harris and included independent jazz artists Orbert Davis, Bobby Lewis, Joanie Pallatto and Judy Roberts.
---
FUTURE STREET Nominated for "Twirlie" Award
January 29, 2005 - Marilyn Harris' jazz CD FUTURE STREET was nominated for a "Twirlie" award in the "Best Female Jazz Vocal" category. This is the fifth annual presentation of these awards (dubbed "a celebration of subjectivity, cronyism and partiality for jazz excellence") - given by the Jazz Programmers List.
---
JAZZ SONGWRITERS AT 2005 IAJE
| | |
| --- | --- |
| Marilyn was a panelist at the January 2005 IAJE annual conference in Long Beach, CA. The panel, entitled, "Adding Pages To The Great American Song Book", was moderated by Mark Winkler and discussed the art and business of creating original NEW jazz songs and how to market their inclusion into the jazz, cabaret, and pop repertoire. Each panelist also performed one of their latest creations. | Marilyn mugs with Cathi Walkup |
---
2004
Wrightwood Records released a CD-Single for the holiday season featuring two
Marilyn Harris recordings:
"MAKE ANOTHER MEMORY
& "THE WISDOM OF
SAM KINISON"
Both songs received national radio airplay throughout the holiday season.
---
| | |
| --- | --- |
| | Wrightwood Records is proud to release the 4th in their series of meditation and relaxation CDs entitled, "Unicorn's Journey". Harpist Stephanie Bennett joins forces with Marilyn Harris to create over 60 minutes of new music designed with "Ahhh" in mind. Hear MP3 samples and order online at the Wrightwood Records website by clicking on the CD cover - and relax and enjoy!!! |
---
April 13, 2004 is the official STREET RELEASE date for Marilyn's new CD "Future Street." Be sure to listen for it on your favorite local jazz radio station. If you don't hear it - CALL THEM and request a cut from "Future Street." Only the listening fans have the power to put this CD over the top. Also, watch for Marilyn's 26-state "The Future is NOW!" tour - coming to a town near YOU!
---
---
Marilyn developed and moderated this songwriter panel at the 2004 IAJE convention in New York City. Panel members/jazz songwriters Bob Dorough, Lorraine Feather,
Bruce Brown and Mark Winkler discussed the art and business of creating
original NEW jazz songs, marketing their inclusion in the jazz/cabaret/pop repertoire,
and then performed examples
of their newest creations.
---
Marilyn performs at New York City's legendary Birdland on January 20, 2004
with Cameron Brown (bass), Cornelius Bumpus (sax) and Billy Drummond (Drums).
---
CLICK HERE
for sound clips, ordering information and webpage.
---
2003
Together with Mara Purl and Mark Wolfram, Marilyn collaborated in the creation and recording of her 3rd new meditation and relaxation CD of the summer - a holiday feast entitled, A Koto Keys Christmas - and as they say on TV, "It makes the PERFECT holiday gift!"
---
Multi-woodwind specialist Phil Feather, Mark Wolfram and Marilyn collaborated in the creation and recording of a new Wrightwood Records CD of Exotic Woodwind and Acoustic Piano music for relaxation and meditation:
Winds on Ivory
---
---
A new recording of Marilyn's chamber work INTERLUDES FOR PERCUSSION AND TRUMPET, performed by John Pennington & Stephen Dunn, has been released on CD by Equilibrium Records - hear sound samples/purchase at
amazon.com
---
Together with Mara Purl and Mark Wolfram, Marilyn collaborated in the creation and recording of the recent Wrightwood Records CD of meditation/relaxation music: KOTO KEYS
---
Marilyn continues to be busy performing musicology analysis and clearance for various clients in the legal, entertainment and advertising fields.
---
New York City's fabulous Swingirls - a vocal trio - recently featured three songs by Marilyn Harris in their new act: "Extra Baggage", "Ain't Got Nothin' On You" and "New York, New Haven & Hartford." Marilyn also did the arrangements on all three songs.
---
Marilyn recently composed several new songs for A. E. Alfred Wolfram's original stageplay "An American Odyssey." The music was all written and performed in the style of the fictitious 1930s dance band Marty Marflow and the Melody Makers. Marilyn performed the voices of Frau Lili von Lake and The Calhoun Sisters. You can hear sound samples of the CD HERE.
---
In May 2003 Marilyn played to a sold-out crowd as part of Judi Silvano's vocal jazz concert series at Cornelia Street Cafe in New York City. Joining her on stage were vocalists Judi, Carol Heffler, Pat Monahan & Linda Harris, drummer Richard Crooks and bassist Stuart Woods.
---
2002
A few years ago a friend (Kevin Bassinson) approached Marilyn to write lyrics to a song he was pitching to an indie film - they recorded it, but the film never happened. Recently, while Kevin was working as a music editor on the Hallmark Hall of Fame presentation "My Sister's Keeper", he had occasion to play that song for the producers - and they liked it enough to put it in the film!
The film stars Kathy Bates, Elizabeth Perkins and Lynn Redgrave and is based on a true story which revolves around two sisters' journey of self-discovery and the relationship that ultimately enriches both of their lives.
It aired on CBS on January 27th, 2002 at 9:00pm (Eastern & Pacific) - 8:00pm (Central)
The song is entitled "EVERYBODY KNOWS" (Words & Music by Marilyn Harris and Kevin Bassinson) and is used in the movie in the first 10 minutes.
---
A PERSONAL NOTE FROM MARILYN: From January 10th through January 12th, 2002 I attended the International Association for Jazz Education conference,and it was a BLAST! After WAY too many years, I caught up with my former boss, Don Sickler (from my first job at a music publisher in New York), who made a terrific presentation for his company, www.secondfloormusic.com. I also caught up with multi-instrumentalist Tom "Bones" Malone (he's in a couple pix from our Gil Evans' days on www.marilynharris.com/bandphotos1.html) - and trumpeter Marvin Stamm (www.marvinstamm.com), arranger Dave Berger, as well as vocalist Diane Hubka (www.dianehubka.com), trombonist Bill Watrous, reedman Dave Sherr, vocalist Tierney Sutton (www.tierneysutton.com), arranger Sammy Nestico, vocalist/bassist Kristin Korb (www.kristinkorb.com), Chicago vocalist Bobbi Wilsyn, vocalist/reedman Don Shelton - I even ran into my childhood inspiration, Dave Brubeck, and gave him my CD! I saw some wonderful, inspiring performers like Airto (www.airto.com), Pat Harbison and Rhiannon (www.rhiannonmusic.com). On the drive down and back to Long Beach, on KLON, I got to hear a terrific song by pianist/singer Bruce Brown entitled "I CAN'T BE CHOOSY" - take a listen at his site: http://www.brucebrown.net - (I really like the title track, "I BELIEVE IT", too!). What came through loud and clear for me from this experience was the spiritual impact that music can have - and a renewed gratitude for the education I received and continue to receive from all the teachers in my life - especially Hale Smith, who showed me so many years ago how it was possible for me to have a career in music. He and all my other influences and inspirations encourage and support me, and I'm deeply grateful.
---
Marilyn recently contributed a gruesome tale about the music business to

MUSIC HORROR STORIES
A Collection of Gruesome True Tales

which is available for sale NOW, online at:

http://www.goodnightkiss.com/mhs.html

Having fully recovered from the terror, Marilyn's hard at work on her next CD!
---
1999
Windham Hill Records' Love Songs Collection "Jim Brickman's Visions of Love" is at your favorite record store NOW or you can order it on-line. Check out the great reviews on amazon.com.

The album features the new song "Like Love" a vocal duet by Marilyn Harris & Phillip Ingram (brother of James Ingram) and co-written by Marilyn & Angel Garcia. Production & Arrangement are by Marilyn and Mark Wolfram.

You can hear an MP3 sample of "Like Love" by clicking on the "Visions of Love" Album Cover to the left.
---
February 1999 found Marilyn collaborating with playwrights at the Nautilus Musical Theater Studio. In July 1999 Marilyn co-produced and arranged four tracks for vocalist John Trones' upcoming release. Currently, Marilyn is in the studio working on her next CD which includes another duet with Phillip Ingram, an instrumental with saxophonist Dan Higgins, and a great new song co-written with Jim Brickman.

To hear a sneak preview from this upcoming new album click the photo of Marilyn & Phillip singing (to the right).
Return to MarilynHarris.com
TOP OF PAGE